How Alessandra Ambrosio Keeps Her Brazilian Booty Bangin'! All About The Brazil Butt Lift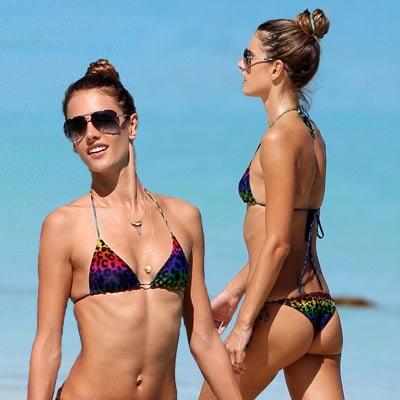 By Leah Ornstein - RadarOnline.com Style & Beauty Editor
Alessandra Ambrosio, who recently announced she is pregnant with her second child, has one of the most bangin' bodies in the biz, complete with a perfectly toned booty – but it isn't just mother nature who the Brazilian bombshell has to think for her bodacious celeb backside! SHAPE magazine has all the details about how Ale started the Brazil Butt Lift fitness trend, and how to get your booty looking as bangin' as hers!
Article continues below advertisement
Over a decade ago, the Victoria's Secret Angel turned to fitness expert Leandro Carvalho, to help her get an angelic and lingerie-ready body – and the Brazil Butt Lift was born!
"Alessandra was looking for a program to specifically target and tone her butt without bulking up her legs," Carvalho says. "She wanted her legs longer, her thighs thinner, and her butt toned and tightened."
"Leandro is just the best trainer for my butt -- and for my abs, and for everything else -- but especially my butt! He came up with this whole workout just for my butt. He is the best," gushes Ambrosio.
To read more about the workout, visit SHAPE.com by clicking here.