Exclusive
Are Divorced Dexter Stars Michael C. Hall & Jennifer Carpenter Giving it Another Try?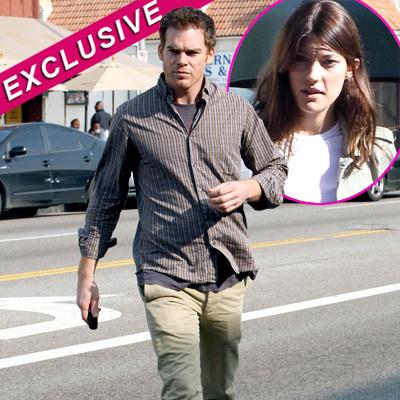 Are Dexter stars Michael C. Hall and Jennifer Carpenter getting a second chance at love?
That's what a canoodling session at Beverly Hill's Peninsula Hotel Tuesday night would suggest, RadarOnline.com is exclusively reporting.
"Michael and Jennifer were seated at a dimly lit corner table, sipping wine. It was a very romantic setting and definitely looked like a date," an eyewitness tells RadarOnline.com.
Article continues below advertisement
The Emmy winner and his ex-wife, who play brother and sister on the hit Showtime drama, eloped on New Year's Eve in 2008, but divorced two years later amid rumors that Michael cheated with Julia Stiles, who guest starred on season 6.
However, inside sources claim that Hall -- now recovered from Hodgkin's lymphoma -- attacks was devastated by the split, and never fell out of love with Carpenter.
And, apparently the feeling is mutual.
"When Jennifer got up to use the ladies, Michael squeezed her hand, looked up at her and she smiled. And when she got back, they held hands on the table for a bit," the eyewitness says. "At one point, Michael leaned across the table and he and Jennifer kissed -- a make-out kind of kiss, not a friendly one. They both looked really happy."
Maybe they were just celebrating their divorce, which was finalized last December?