Leonardo DiCaprio, Charlize Theron & Tilda Swinton Among Oscar Snubs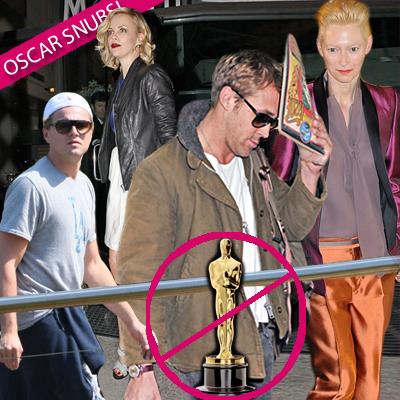 The nominees for the 84th Academy Awards were announced Tuesday in Beverly Hills, and while we got a taste of the expected, some notable performances -- including Leonardo DiCaprio, Charlize Theron, and Tilda Swinton -- were among those snubbed.
DiCaprio (J. Edgar), Theron (Young Adult), and Swinton (We Need to Talk about Kevin), all Golden Globe nominees, did not hear their names called for the little gold man.
Article continues below advertisement
We caught up with veteran entertainment reporter David Viggiano, who gave us his thoughts on other stars who just missed the cut.
"The surprise nomination of Demian Bichir for A Better Life knocked out two potential nominees that had arguably the best year of their respective careers," said Viggiano, referring to actors Ryan Gosling and Michael Fassbender.
"Ryan Gosling consistently shows his acting chops and had three meaty roles in three successful movies this year: Drive, The Ides of March and Crazy, Stupid, Love. The latter two movies earned him Golden Globe Nominations.
"And 2011 was Michael Fassbender's breakout year with critically-acclaimed roles in four movies: Jane Eyre, X-Men: First Class, A Dangerous Method, and Shame. His role in Shame won him eight critics awards (so far) and earned him more than a dozen other nominations including a Golden Globe."
Click here to see the full list of Golden Globe winners.
Viggiano said that in both cases, the market was saturated with an abundance of tasty options, resulting in the surprise snubs.
Article continues below advertisement
"My guess is that for both actors they had too many good roles to choose from and their votes were spread out over all their movies -- which is why I think actors should be nominated for all their work in a single year, not necessarily for just one role."
Other names bandied about that missed the Oscar cut altogether included: Albert Brooks (Drive), Shailene Woodley (The Descendants), Andy Circus (Planet Of The Apes), and director David Fincher (The Girl With the Dragon Tattoo).
Viggiano also pointed out a few of the snubs in the lesser-heralded categories.
"Steven Spielberg's animated tale, The Adventures of Tin Tin, won the Golden Globe for Best Animated Feature but wasn't even nominated for an Academy Award, which is beyond my comprehension because it blows away all of the other nominees in that category.
"And only two songs were nominated for best original song: both Madonna's 'Masterpiece' (which won the Golden Globe) and Elton John's 'Hello Hello' were snubbed.
Article continues below advertisement
"I'm not sure why they would only nominate two songs when they had the chance to add star power and performances to the Oscars ... but what I'm really disappointed about it that there will be no revival of the cat fight that started when John trashed Madonna's song at the Golden Globes!"
For the full list of nominations, click here.
Billy Crystal hosts the ceremony, which airs live on ABC from Hollywood's Kodak Theater on Sunday, February 26.