Jersey Shore We've Got A Situation: Reality Star Sulks Over Birthday Snubs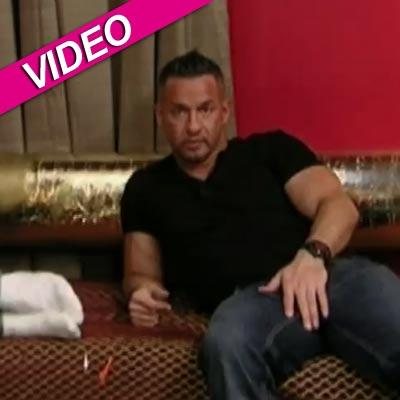 Drama ran high on Jersey Shore Thursday, as the cast slowly came to terms with the beloved Vinny Guadagnino abruptly leaving last week, while dual birthdays for Pauly D and The Situation showed the man with the famous abs he's not likely to win any popularity contests among his housemates.
First, the Vinny drama: Everyone was upset in the wake of the house's resident nice guy leaving Seaside Heights last week, citing loneliness and anxiety issues. Deena cried and professed her love for him, Snooki ruminated there was no one left to flirt with and Pauly D paid tribute to his close pal with a roll in the hay in Vinny's former bed.
Article continues below advertisement
Vinny told his family in Staten Island he left because his anxiety issues were inflaming, and the cast house "wasn't the right environment for him to deal with it in -- it was too much."
The Situation, meanwhile got boo-boo faced after seeing a procession of family and friends show up to celebrate Pauly's birthday while his (within days of Pauly's) went largely unnoticed.
As Snooki and Deena made Pauly a cake, Snooki reasoned: "Obviously, Mike knows we all like Pauly better than him, so the fact that we made a cake for Pauly and not Mike ... that's what you get for being a f***ing d***** bag."
The Situation later came clean about his anguish over the lack of attention: "We celebrated Pauly's birthday over and over again, maybe I'm just jealous.
"At the end of the day, I'm just a very emotional dude and I'm starting to see no matter how good I am, I'm never seen as the good guy, I'm always seen as somebody bad," he explained. "And that's why I've been a little upset. There's always going to be drama with the roommates, but I'm tired of being the bad dude."