Empower Yourself Through Your Workout! Meet Hilary Swank's Trainer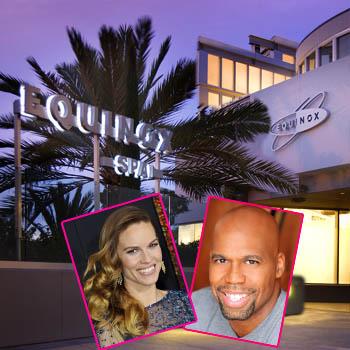 By Leah Ornstein - RadarOnline.com Style & Beauty Editor
Need a little inspiration to get into shape in 2012?
RadarOnline.com spoke exclusively to Hilary Swank's personal trainer of several years, Franklin Westbrooks, who revealed how his empowering approach to staying in shape can transform your body as well as your mind this upcoming year!
Westbrooks -- who's been training the New Year's Eve star two days a week for several years at Equinox in Santa Monica, California -- maintains that the best way to get committed to a fitness regiment is by focusing on empowering yourself, rather than obsessing over numbers and sizes. and he doesn't suggest New Year's Resolutions!
Article continues below advertisement
"Some people are motivated by how they feel, others by numbers and others by the amount of weight they can lift. How you move and how you feel are the best indicators of the shape you are in. You don't appreciate your body as much when you lose 10 pounds as when you watch yourself do amazing things with your body that you didn't think you would ever be able to do."
Instead of making New Year's Resolutions, which often don't make it into February, the fitness guru suggests simply making fitness a part of your lifestyle by focusing on where you want to go and working your way backwards.
"Outline the map for yourself," he offers, "and set realistic goals of where you want to be in 3 months, 6 months and 1 year. Your lifestyle can be changed very easily, and by the third month, you should have a drastically different lifestyle if you stay focused."
And if the motivation of getting to the gym is a problem, remember that doing something is better than nothing!
"Just start moving," he advises. "If you haven't been going to the gym and you are just getting back into it, focus on just getting your heartbeat up, even if it is just for 30 minutes. It's really important to get the blood circulating."
Last but not least, think of your workout as "me time."
"I always remind my clients that this is the only hour of the day they are reserving for themselves. This is the only hour they are serving themselves and no one else. So try and go hard and make the most of it!"
To schedule an appointment with Franklin Westbrooks, call Equinox Santa Monica at (310)593-8888.
RELATED STORIES: