Russell Brand Still Not Wearing Wedding Ring In London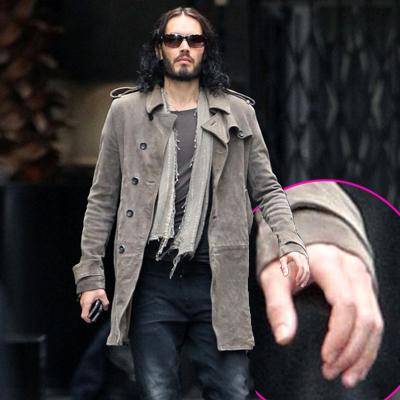 Once again, Russell Brand has been spotted not wearing his diamond wedding band amid growing rumors that he and Katy Perry are having serious marriage problems.
The British funnyman was snapped looking stone-faced as he left his London hotel Friday.
Speculation has been growing that the couple may be breaking up after he spent the Christmas holiday in England, while the California Gurls singer opted to go to Hawaii with friends. (Perry has also been photographed not wearing her wedding ring.)
Article continues below advertisement
The couple married in a lavish ceremony in northern India in October, 2010.
From the beginning, their pairing struck some observers as odd; Perry comes from a very strict and conservative family while Brand has spoken openly about his battles with addiction and the many women he has bedded in the past.
Neither Brand, 36, nor Perry, 27, have commented publicly on the reports.
RELATED STORIES:
MORE ON:
hollywood happenings