'Dem Santa Babies!' Mariah Carey Shows Off Moroccan & Monroe In New Christmas Video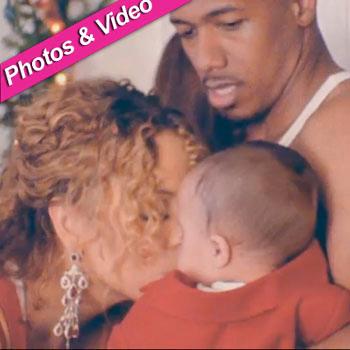 Mariah Carey's adorable 7-month-old twins Moroccan and Monroe have made their MTV debut, appearing alongside their A-lister mom and dad Nick Cannon in the video for Mariah's compilation with John Legend, When Christmas Comes.
In the incredibly festive music video, Mariah and Nick proudly show off "Dembabies" - her nickname for the adorable tots - who are dressed in adorable holiday themed outfits for their first Christmas celebration.
Article continues below advertisement
The All I Want For Christmas singer gave birth April 30, her fourth wedding anniversary with Cannon.
Don't forget, in the summer of 2010, RadarOnline.com was first to report that the Grammy-winning singer was expecting.
Watch the video on RadarOnline.com below:
Nick Cannon: 'I Get Pulled Over Like Once A Week...Because I'm A Black Man In A Nice Car'
Dembabies Are Darn Cute! Mariah Carey's Twins Moroccan & Monroe Out In The Big Apple