Kris Humphries & Kim Kardashian Fight Over Zip Codes On Kourtney & Kim Take New York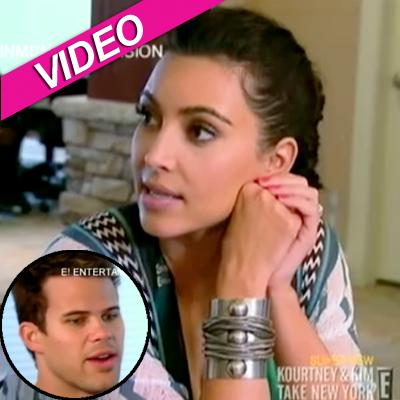 Location, location, location.
It's a big deal -- especially when it comes to a newlywed couple living in different states -- and on the latest edition of Kourtney & Kim Take New York, viewers got more of the pointed chatter between Kim Kardashian and Kris Humphries that would ultimately doom their 72-day marriage.
The issue at hand on Sunday's show was the distance between the newlyweds, as Kris hightailed it back to his native Minnesota after things in New York were a little too close for comfort.
Article continues below advertisement
When Kim touched down in Minnesota -- which she referred to as a "cave" -- she asked Kris, "Have you missed me? New York? Living with me?"
Kris said, "I've missed you: I haven't missed living with everyone -- crying babies, weirdo yoga teachers. I've been able to focus here ... I'm chilling."
When he and Kim here horsing around on a bed in a subsequent scene, Kris told her, "Your armpits smell like a combination of fish and hot garbage."
Kim wasn't there for appraisals of her underarms, but rather, to address the elephant in the room since their exchange of "I do's."
She told Kris, "It's your off-season and I feel like you should be living with me," she said, to which Kris explained he gave that option a shot, but was ultimately distracted.
"Yeah, it was ridiculous," the NBA player said. "My training is important and if I can't get it done and there are too many distractions -- of Mason and Scott and Kourtney fighting and all living in the same place -- it's easier to stay here."
Article continues below advertisement
Kim countered, "I came all the way out here to like talk to you and to hang out here but all you're really caring about is basketball ... if you're married, there has to be another priority."
"You don't want me to resent you, do you?" Kris said.
"I'll go pack and we'll go live in separate cities," Kim said. "I'll Skype you to say bye."
Later in the episode, the newlyweds reconciled, with Kim predicting, "We're not going to have a successful marriage if we live in different states."
Kris mused he'd have to find a way to make his marriage and career fall into step, eventually giving into his then-wife and retuning to the Big Apple to give living together another shot.
"I decided to come back to New York because I want to see my wife happy," Kris said. "Marriage is all about compromise and I'm willing to compromise in this situation."
Says Kim: "We're going to make some adjustments and hopefully it works out for everyone." (Sadly, we know how it ended.)