Hairspray Star Nikki Blonsky Is 'Proud To Be Working' In A Salon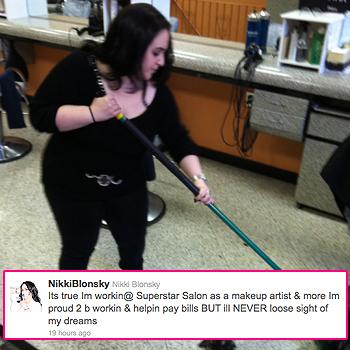 By Debbie Emery - RadarOnline.com Reporter
Despite having gone from the bright lights of Hollywood to sweeping the floor of a Long Island hair salon, Hairspray star Nikki Blonsky says she is content with her latest career move.
"It's true Im workin@ Superstar Salon as a makeup artist & more Im proud 2 b workin & helpin pay bills BUT ill NEVER loose sight of my dreams," tweeted Nikki, just hours after RadarOnline.com exclusively revealed that she's working at a Great Neck, New York beauty parlor.
Article continues below advertisement
"Just cause Im part time workin doesnt mean Im gonna give up on my dreams n dont give up on urs I might book something big soon keep positive," she pledged.
As RadarOnline.com exclusively reported, the singer and actress who starred alongside John Travolta in the hit 2007 musical has gotten her cosmetology license and is now happy to do anything at the Superstar Salon to pay her bills.
"I was in the salon having my hair done and I saw her working there. I couldn't believe it. She was sweeping up hair but also doing people's make up," shocked customer Sally Miles told RadarOnline.com exclusively.
Since RadarOnline.com broke the story, 23-year-old Nikki has gotten an out-pouring of support from fans on Twitter over her hard work and dedication to making a living.
"Ya gotta do what ya gotta do! Don't worry about a thing Nikki your fans aren't going anywhere! God gives to those who wait," one follower wrote, while another shared their admiration. "i wish i had an ounce of ur confidence and family support!"