Girl Predicts Her Death On Facebook, Writes 'May Die 2day'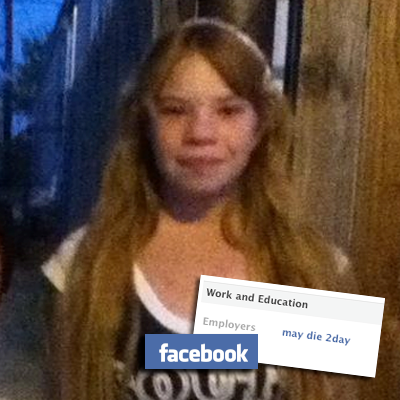 By Debbie Emery - Radar Reporter
A 12-year-old Texas girl posted a chilling message on Facebook that read, "I think I may die 2day," and just hours later her mother shot her in the head.
Ramie Marie Grimmer's prophetic message was written on Monday just hours after her mother, Rachelle Grimmer, took her and brother Timothy, 10, hostage along with a human services worker at a state office in Laredo, Texas, reported MSNBC.com.
Article continues below advertisement
The standoff came to an unfortunate end later that night when Rachelle shot both Ramie and her little brother once in the head, then killed herself. Timothy remains in critical condition at a San Antonio hospital, where his sister died of her wounds on Wednesday.
The seven-hour ordeal caught the nation's attention after it was reported that Grimmer had gotten upset with the Laredo welfare office because they denied her food stamps.
After being taken into a private room by a supervisor to discuss her case, she pulled a gun and held her hostage. She later let the woman go, and hostage negotiators and police talked with her all night while she spilled a slew of complaints against state and federal government agencies.
At around 7.50 p.m., Ramie changed the "employer" section of her Facebook account to "may die 2day." Later at 10:34 p.m., Ramie posted, "im bored," and then 18 minutes later, "ahhhhhhhhhhhhhhhhhhhahhhhhhhh."
Article continues below advertisement
The little girl's final post was 11:28 p.m., and read "tear gas seriasly," which is thought to reference the SWAT team that had surrounded the building attempting to restrain her mom.
As the drama played out on the social networking site, the children's grandmother responded: "I'm here for you guys. no reason to be afraid."
Tragically, three shots rang out at around 11.45 p.m., and police found the body of Grimmer and her two injured children.