THE WEEK IN PHOTOS: Stars Go Colorful As Turkey Week Approaches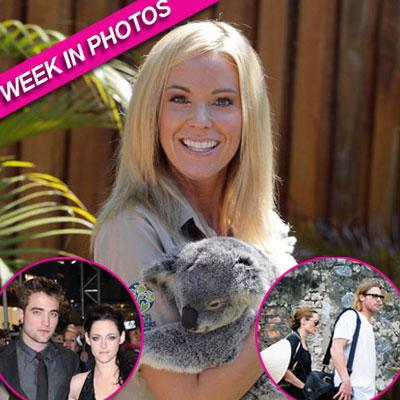 Article continues below advertisement
Victoria Beckham and Baby Harper at JFK airport in New York.
Kate Gosselin is seen with a Koala, the Irwin family and her trusty bodyguard at Australia Zoo in Sydney, where she took part in Steve Irwin day.
Amanda Knox and her boyfriend James Terrano do some shopping while out in Seattle, Washington.
Brad Pitt and Angelina Jolie visit Con Dao prison, also known as the 'Tiger cage' in Con Dao island, off Vietnam's southern coast.
Chaz Bono poses with Jane Lynch at the LA Gay And Lesbian Center's 40th Anniversary Gala Auction in Los Angeles.
Robert Downey Jr. and his pregnant wife Susan stroll together, hand in hand, on the beach in Kauai, Hawaii