Wholesome Hotties! Hollywood Good Girls With Bangin' Bikini Bods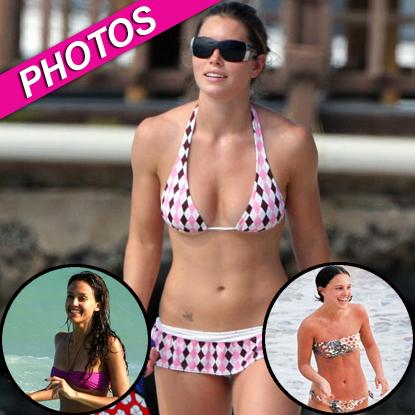 RadarOnline.com Style & Beauty Editor
These Hollywood stars don't have to cause trouble to get attention -- their smokin' hot bikini bods stir up enough drama!
While their peers grab headlines for not-so-sweet behavior, there is nothing scandalous about stars like Jessica Alba, Kate Gosselin and Taylor Swift, who keep their side of the street clean and family-friendly.
RadarOnline.com has photos of the hottest and most wholesome Hollywood bikini babes, who prove that good girls are just as sexy as bad girls!
Article continues below advertisement
Beyonce may be Bootylicious, but there is nothing scandalous about the smoking hot singer! Beyonce, who sang in the church choir for two years as a child, has managed to stay out of trouble throughout her entire career.
While other Billboard-topping stars trade lovers and vacation at rehab, the Destiny's Child singer prefers a quiet life yachting around in her bikini with her husband Jay-Z.
Talk about model citizens! Victoria's Secret Angel Adriana Lima claims she waited until she was married to hop in the sack with the opposite sex, which is quite a fete considering she dated some of the biggest hunks in the world. And Brooklyn Decker couldn't be any more All American! The Sports Illustrated stunner prefers sitting courtside watching her hubby Andy Roddick play with balls, than in the VIP section of the hottest new club.
Carrie Underwood and Taylor Swift stay true to their fans -- by staying out of trouble! The sweet-faced stars are not only great role models, but bikini models as well!
And Jessica Alba may have the most dangerous curves on the big screen, but there is nothing R-Rated about the flawlessly bodied babe! While her peers are checking in and out of rehab and frolicking around with married men, Jessica is a devoted wife and mother who chooses a day at the playgroundover a wild night out in Hollywood.
What other wholesome stars also have hot bodies? Find out by clicking here.