Selena Gomez Smiles Through The Storm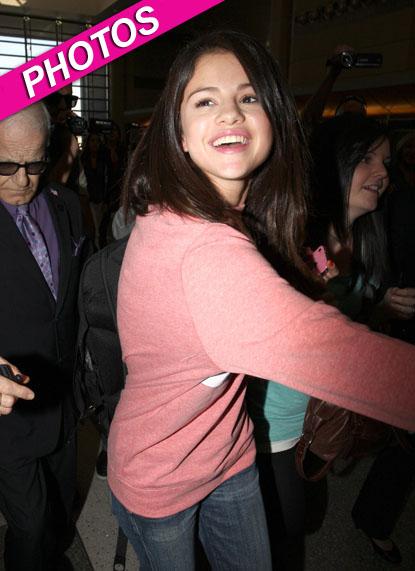 Selena Gomez was all smiles at LAX Thursday, in the wake of a tough week in which she got a double dose of fame's dark side, and RadarOnline.com has the latest pics of the Disney darling.
The 19-year-old Wizards of Waverly Place beauty, clad in a vintage Coca-Cola shirt, waded through a sea of media at the travel hub of the rich and famous.
It's been a challenging few days for the young starlet: her boyfriend Justin Bieber was named in a paternity suit filed by a woman named Mariah Yeater in a story broken by Star magazine; and Thomas Brodnicki, a 46-year-old Chicago man with a history of mental illness, entered a plea of not guilty to one count of stalking the Monte Carlo star.
Article continues below advertisement
The stalking count carries a maximum sentence of three years in state prison. Judge Upinder Kalra set Brodnicki's bail at $150,000 and granted a three-year protective order. A preliminary hearing has been set for November 16.
As for the Biebs' problems, Yeater's attorneys told Star magazine exclusively on Thursday, "It is noteworthy that Justin Bieber himself has not denied the fundamental fact that he had unprotected sex with Mariah Yeater following a concert in Los Angeles."