Nicole Scherzinger: 'I Started Counting Calories At 14'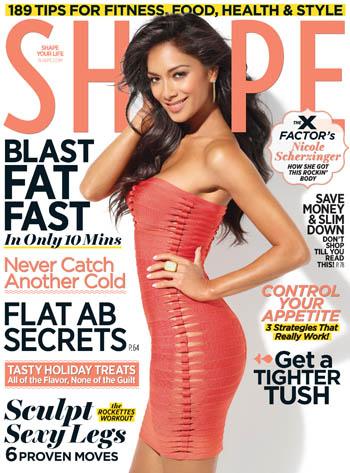 Nicole Scherzinger has one of the hottest bodies in Hollywood, but her obsession with staying in shape hasn't always been healthy!
The 33-year-old former Pussycat Doll, who is currently a judge on the American version of The X Factor, opens up to Shape magazine in their December issue, revealing that she started dieting in her early teens – and RadarOnline.com has the details.
The brunette beauty, who maintains that she "eats a lot" now, admits that her approach to eating hasn't always been so wholesome.
Article continues below advertisement
"I started jogging and counting calories when I was just 14," she explains. "I've been on every diet you can imagine. By the time I was in the Pussycat Dolls, I was on the scale all the time. It became my enemy because I noticed that when I exercised really hard, I'd gain weight."
But the singer and dancer has since found a better way to gauge her progress.
"Now that I'm in my 30s, I've stepped off the scale. I just go by how my clothes fit."
"I'm more accepting of my body and have learned to really embrace it. These days it's all about finding balance. My new motto is: 'Stay active, eat everything in moderation, and stop being so tough on myself.'"
Want to get Nicole Scherzinger's hot body?  For her workout and to read her entire interview with Shape, pick up the December 2011 issue.
RELATED STORIES:
The X Factor: Nicole Scherzinger Bans Simon Cowell From Rehearsals