David Hasselhoff's Girlfriend 'Still Quite Young' For Marriage, Says Her Mom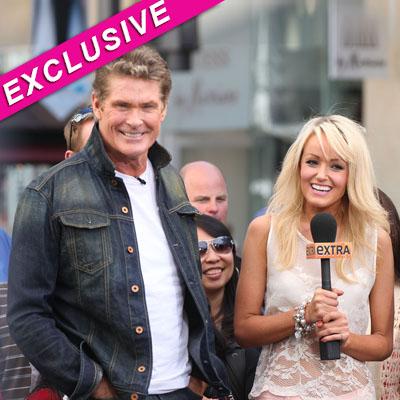 Radar Reporter
Don't hassle The Hoff!
David Hasselhoff has been bombarding his much younger girlfriend Hayley Roberts with marriage proposals, but her mom says her daughter is just not ready yet.
"She is saying no to his proposals," Hayley's mom, Margaret Roberts, tells RadarOnline.com in an exclusive interview.
"She has told me that he keeps asking her and she says she likes him a lot, but she's still quite young and that's what the problem is."
Article continues below advertisement
At 32 years old, Hayley is nearly half the age of the 59-year-old twice-divorced David, and he's older than her mother!
"At first I found the age difference difficult," Margaret said. "He's older than me but when you see them together they just get on really well so I don't worry so much now.
"It's not the age difference...it's more she's young and it's a big commitment."
But the couple is hopeful for a future together, so much so, that Hayley quit her job to spend more time with David to see how they get along.
"She has given up her job to be with him for a year," Margaret told RadarOnline.com. "It's too hard otherwise with him traveling...but she wanted this year to be with him and see what it's like.
"This way she can spend the year and see how she feels about being with him after that. I don't think she should jump into marriage and that's what I've told her."
Although there's no engagement yet, Margaret says the two are getting along so well that she's expecting them both home for Christmas.
"I told her to take things easy and think things over," Margaret said.
"I don't want her making bad mistakes."
RELATED STORIES: