Charlie Sheen Plays Doting Dad With Denise Richards And Their Daughters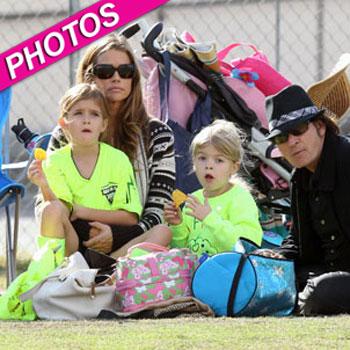 Charlie Sheen attended his daughters' soccer game Saturday as he continues to try and redeem himself in the father stakes.
The actor made nice with ex-wife Denise Richards and they continued on their recent theme of playing Happy Families for the sake of the children.
Sheen and Richards watched from the sidelines with Lola, 6, and Sam, 7, in Calabasas, Calif.
The formerly acrimonious exes laughed and joked with each other like old pals as they spent time with their girls.
Article continues below advertisement
Sadly, Sheen's appearance did not bring the Winning to the field -- Sam's team lost.
Clearly enjoying playing dad, though, Charlie posted a picture of him and the girls afterward.
"Saturday is soccer!" he wrote on his Twitter page with a picture of himself, Denise and his daughters. "Here's three great reasons why I love my weekends!"
Charlie is currently filming A Glimpse Inside The Mind of Charles Swan III where he plays the title character alongside Bill Murray and Patricia Arquette.