New Reality Show 'Bad Sex' Exposes Sex Addiction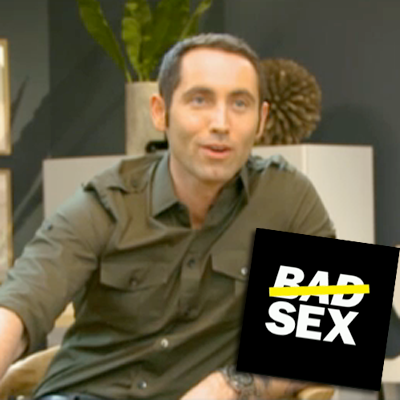 The success of Celebrity Rehab opened the door on the issue of drug addiction, and now a new reality TV show takes viewers behind the scenes into the dark world of sex addicts, and RadarOnline.com has an exclusive interview with its resident expert.
Sex specialist Christopher Donaghue is bound to become the next Dr. Drew when his controversial show, Bad Sex, debuts on the Logo network on Friday, November 4.
Article continues below advertisement
"What we do is really explicit. You'd be shocked to see some of the conversations I have with patients," Los Angeles sex therapist Donaghue told RadarOnline.com in an exclusive interview. "This is the raciest thing I've ever seen on TV."
In the premiere episode, viewers are invited into the erotic life of Ryan, who is a homosexual sex addict.
"He can't get through the work day without leaving the office to have sex," said Donaghue, who has treated sexual problems for 12 years. "He's one of the most extreme case I've ever seen as he can't function without it."
One of the most disturbing aspects about Ryan's extracurricular activities is his seduction of straight men.
"He will get to know them, pretend to like women, and once they are friends he will then get them drunk and lure them into bed," his therapist told Radar.
"He displays a lot of premeditated predatory behavior. Getting him to have functional and honest sex is part of the challenge."
A female patient named Erin loves nothing more than being violently kicked or punched when she's having sex, a fetish that doesn't go down well when she auditions for acting or modeling jobs covered in bruises, revealed Donaghue.
Article continues below advertisement
Newly single and incredibly ripped, it's not surprising that the counselor becomes the object of some of his client's affections.
"It can get a little hot in the sessions, I have had some interesting occasions where clients have crushes and fantasies but I have to have rock-solid boundaries," he explained.
Bad Sex premieres Friday at 9pm ET/PT on Logo.
RELATED STORIES:
Justin Bieber's Bodyguard Owes Me $3,000, Says Ex-Girlfriend