Apple Co-Founder Steve Jobs Dead At 56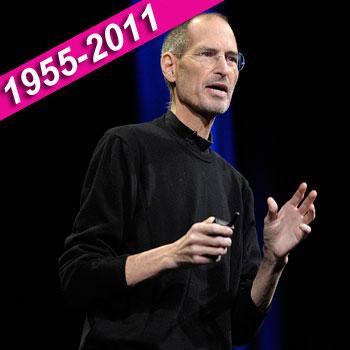 UPDATE: Steve Jobs family released a statement Wednesday afternoon: "In his public life, Steve was known as a visionary; in his private life, he cherished his family.
"We are thankful to the many people who have shared their wishes and prayers during the last year of Steve's illness; a website will be provided for those who wish to offer tributes and memories.
"We are grateful for the support and kindness of those who share our feelings for Steve. We know many of you will mourn with us, and we ask that you respect our privacy during our time of grief."
Article continues below advertisement
Tech guru Steve Jobs, who co-founded Apple and headed their huge comeback, died October 5 at 56 after years of health issues, RadarOnline.com is reporting.
Jobs' contributions in the computer business over the better part of four decades led to the advent of household items such as iPod, iPhone and iPad, among others; and brands including Apple, Pixar and Atari.
Jobs name is billed as inventor or co-inventor to more than 200 U.S. patents, among them: the Apple I (1976); the Macintosh (1984); the iMac (1998); the iPod (2001); the iTunes store (2003); the iPhone (2007) and the iPad (2010).
In recent years, the San Francisco native's failing health sadly put his name in the headlines as often as his technological innovations.
The warning signs began manifesting in 2008, as Jobs' rapid weight loss caused media speculation, to the point Bloomberg News had mistakenly published an obituary it had prepared for the tech guru.
At an Apple event that fall, he mocked the situation with a Mark Twain quote, saying "The reports of my death are greatly exaggerated."
Article continues below advertisement
By 2009, Jobs, still gaunt, took a medical leave from Apple to receive a liver transplant. He returned in June of that year.
Information about his return remained sparse until January 2011, when he took an indefinite medical leave, though remaining atop the company depth chart as CEO. By August, however, the embattled inventor resigned as CEO, staying on as a chairman of the company. Photos published in media reports showed Jobs looking increasingly frail and weak.
In death, Jobs leaves a legacy as one of the world's most influential inventors and profitable businessmen -- not bad for someone who dropped out of college.
He got his start working for video game vanguard Atari, before developing the now-legendary Apple brand -- in his garage -- with high school pal Steve Wozniak in 1976. The tech wizards released their first computer, the Apple I, that summer for $666.66 retail.
Article continues below advertisement
The next few years would be pivotal in the computer company's development: After a group of venture capitalists helped Jobs & co. incorporate the computer manufacturer in 1977, the company would go public three years later in 1980, drumming up a huge $110 million in its' initial public offering.
The company debuted the Mac 1984, well-remembered by a Ridley Scott-directed Super Bowl commercial.
Jobs was on the short end of a power struggle a year later, leaving the company along with Wozniak.
His skills and leadership revolutionized not just the computer industry, but animation as well: Following his Apple resignation, Jobs purchased The Graphics Group, a computer graphics-based organization from Lucasfilm in 1986.
Jobs then re-branded the company name to Pixar, which produced the industry-groundbreaking animated features in the 1995 film Toy Story (Jobs was an executive producer on the 1995 movie). Taking Pixar public on to Wall Street, the Jobs-driven company's IPO drummed up $140 million, again proving its' leader's Midas Touch in business.
Article continues below advertisement
More under the RadarOnline.com, his NeXT computer in 1989 -- which cost $6,500 at the time -- was built with the first-ever Web browser.
Jobs eventually returned to Apple in 1997 in an advisory capacity, eventually being appointed to "interim" CEO when incumbent Gil Amelio left. The struggling computer franchise strikes gold again with the iMac, a blue-and-white computer/monitor. By 2000, Jobs is fully reinstated as the franchise's CEO.
The next few years would mark a series of high-water marks for Jobs professionally, as the 2001 release of the iPod, followed by the advent of the iTunes music store in 2003, cemented the company's fortunes and state-of-the-art reputation. Jobs' personal fortune was exponentially enhanced after Disney bought Pixar for $7.4 billion in 2006; he was also was awarded a seat on the board of directors of The Walt Disney Company.
Article continues below advertisement
The release of the iPhone (2007) and iPad (2010) cemented Jobs' iconic status as this generation's Benjamin Franklin, in terms of inventions that greatly enhanced our day-to-day lives.
Jobs is survived by his wife, Laurene Powell; their three children, Reed Paul, Erin Sienna and Eve; and his daughter from a different relationship, Lisa Brennan-Jobs.
At this time, funeral arrangements are pending.
Apple posted a statement on their website along with an email address to send thoughts, memories and condolences: rememberingsteve@apple.com.
"Apple has lost a visionary and creative genius, and the world has lost an amazing human being. Those of us who have been fortunate enough to know and work with Steve have lost a dear friend and inspiring mentor.
"Steve leaves behind a company that only he could have built, and his spirit will forever be the foundation of Apple."
RELATED STORIES:
James Franco's Father Is Dead At 63