Rapper T.I. Surprises Taylor Swift Fans With A Duet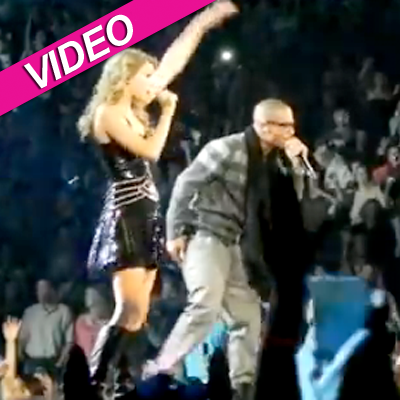 Rapper T.I. -- just days after being released from an Atlanta halfway house -- made his return to the stage Sunday night by performing a surprise duet with country music sweetheart Taylor Swift.
The unlikely duet took place when, towards the end of Swift's show in Atlanta, she began singing Live Your Life, which T.I. originally recorded with Rihanna. Much to the delight of the audience, T.I. joined her after making a grand entrance down a staircase in the middle of the stage.
Article continues below advertisement
The two Grammy winners stood side by side as he rapped and she sang, to the shock and delight of the country singer's fans who grabbed T.I.'s hand as he leaned down to greet those on the front row.
After the show, Swift expressed her delight at the impromptu performance. "Singing 'Live Your Life' with TI tonight was unreal. LOUDEST screams from the crowd, 14,000 people, hands in the air- welcome back @Tip !!"
As RadarOnline.com previously reported, T.I. was released last Thursday from the Atlanta halfway house that he been staying at since August 31.
The rapper, whose real name is Clifford Harris, had spent 14 days of his 11 month prison sentence for parole violation at the house.
The Whatever You Like singer was arrested in September 2010 on drug charges and received the prison sentence for violating the terms of the probation he received after he was convicted of federal firearms charges.