Marco Simoncelli Killed During MotoGP Motorcycle Race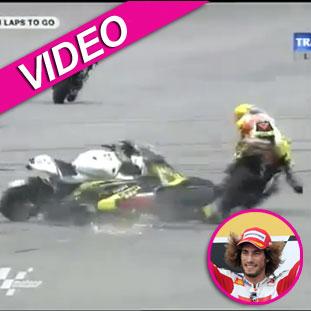 For the second week in a row, the racing world has lost the life of a young star. Marco Simoncelli, one of the rising personalities on the MotoGP circuit, died in crash during a motorcycle race in Malaysia on Sunday.
The tragedy comes just a week after the death of two-time Indianapolis 500 winner Dan Wheldon, who was killed in a 15-car accident in the IndyCar finale at the Las Vegas Motor Speedway.
Article continues below advertisement
The most recent accident occurred when Simoncelli, whose nickname was Super Sic, lost control of his Honda at turn 11 just four minutes into the Malaysian MotoGP. MotoGP is part of the Road Racing World Championship Grand Prix.
The 24-year-old rider's bike then swerved across the track and fatally into the path of American Colin Edwards and Valentino Rossi of Italy, his helmet was ripped off in the collision and he lay motionless on the ground. It was a tragedy seen on life TV, much like Wheldon's was.
After the crash, Simoncelli was taken to a medical center where he died of chest, head and neck injuries, according to ESPN.com.
"He was already unconscious when the medical team arrived," MotoGP medical director Michele Macchiagodena said. "We attempted to resuscitate him but failed. He died 45 minutes later."
Born in Cattolica, Italy, Simoncelli began racing when he was just seven years-old. He won the 250cc world title in 2008, ironically at the same Malaysian circuit where he died on Sunday.