Dan Wheldon's Funeral Brings Out Celebs And Thousands Of Fans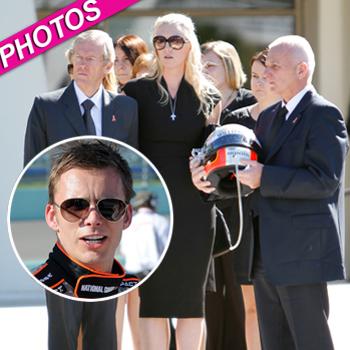 Dan Wheldon's life was celebrated Saturday in St. Petersburg, Florida, where thousands of fans came out to honor the race car driver.
Wheldon, who twice won the Indianapolis 500, was killed last Sunday in what was possibly the worst crash in IndyCar history.
The beloved driver, just 33, was memorialized at the First Presbyterian Church.
Fellow drivers Danica Patrick and Dario Franchitti traveled to St. Petersburg for the funeral. Both were in the race in Las Vegas when the horrifying crash occurred. Franchitti was accompanied to the funeral by his wife actress Ashley Judd and her sister, country singer Wynonna Judd.
Article continues below advertisement
Dan's wife of 3 1/2 years, Susie Wheldon, was there with their two young sons, and had invited residents of Wheldon's adopted home town to come to the church and line the funeral route.
Dan had moved to the Tampa Bay city in 2005 and settled in like a native. He and Susie were married there in March, 2008, and after they became parents, Dan was regularly spotted pulling the toddlers around his neighborhood in a red wagon.
'Though we won't be able to fit everyone inside, I know that Dan would have wanted the community to share in the celebration of his life and to grieve his passing,' Susie said in a statement before the funeral.
Anyone wishing to send condolences to the Wheldon family can mail them to The Wheldons, 9600 Koger Blvd N, Ste. 105, St Petersburg, FL 33702.
RELATED STORIES: