Michelle Obama Radiates In Purple Gown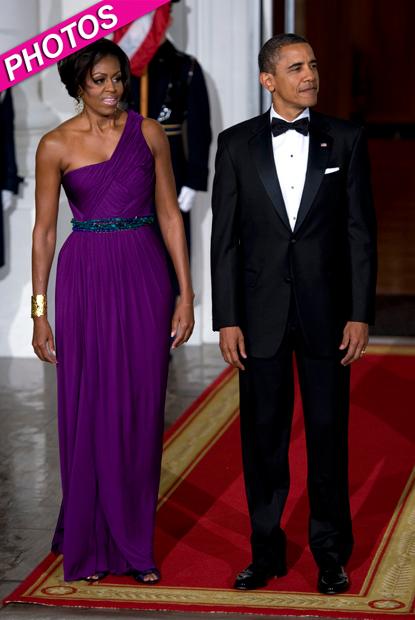 First Lady Michelle Obama has cemented her standing as the nations' First Fashionista.
At a White House state dinner Thursday night in honor of South Korean President Lee Myung-bak, Mrs. Obama dazzled in a purple one shoulder gown created by Korean-American designer Doo-Ri Chung. As for South Korean First Lady Kim Yoon-ok, she wore a traditional Korean dress -- called a hanbok -- in pink and white.
Article continues below advertisement
Unlike some state dinners, there wasn't a whole lot of Hollywood star power at this one -- tennis great Billie Jean and ABC News correspondent JuJu Chang were some of the more well-known names among the 220-plus invited guests.
King told Fox news she'd spent the day reading up on the just-passed U.S. free-trade agreement with South Korea and was "just excited to be here and be a part of it and share." It was her first state dinner.
Other guests included Ford CEO Alan Mullaly, Supreme Court Justice Ruth Bader Ginsburg and San Antonio Mayor Julian Castro.
The dinner included butternut squash bisque, a Korean-inspired salad featuring daikon sheets and masago rice pearl crispies, wagyu beef from Texas and chocolate cake served with a blend of Korean and American pears. The guests also dined on vegetables from the White House garden.
Article continues below advertisement
There were other elements of the Korean culture worked into the evening, including Korean knotting on the menu cards, deep red bamboo vases on some tables and chrysanthemums in the floral arrangements. In Korea, bamboo represents integrity, and chrysanthemums are a sign of a productive and fruitful life, the White House said.
The entertainment lineup incorporated both U.S. and Korean culture. The Ahn trio, sisters born in Seoul and reared in New York who play piano, violin and cello, performed with a high-energy fusion of jazz and classical sounds. Next up was Grammy Award-winning singer-songwriter Janelle Monae from Kansas City, Kansas, who sings a blend of alternative, R&B and funk sounds.