Search For Missing Baby Lisa Irwin Moves To California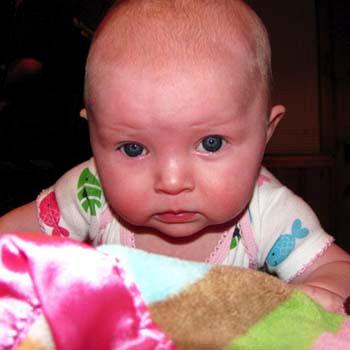 The search for missing baby Lisa Irwin has moved to California after new leads emerged taking detectives to the West Coast.
The 10-month-old Lisa went missing from her home in Kansas City and her parents have been appealing for her safe return.
Now authorities have widened their search, after reports that a couple in California were seen with a small child matching Lisa's description.
"They're pursuing surveillance tape on a couple with the baby in California," Mike Lerette, a relative of the family, said.
Article continues below advertisement
Parents Deborah Bradley and Jeremy Irwin have not seen their daughter since early Tuesday morning when he came home from a night shift and found her crib empty. They've told investigators that the family's three cell phones were gone and the front door was unlocked when they discovered the baby missing.
Bradley claims the police have accused her of having done something to her missing child, and communications between both parents and the police broke down on Thursday.
But on Saturday, Kansas City PD Capt. Steve Young told KMBC that his office and the parents were now back in contact by phone.
RELATED STORIES: