Best Friends Leonardo DiCaprio And Tobey Maguire Pair Up For 'The Great Gatsby'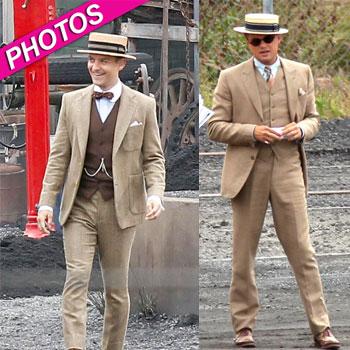 They've been best buddies since childhood and now Tobey Maguire and Leonardo DiCaprio are making their first major movie together, a remake of The Great Gatsby.
The pair looked dapper dressed in period suits and topped off with a flat cap for Maguire, who plays Nick Carraway, and a straw hat for DiCaprio, who has taken on the role of mysterious millionaire Jay Gatsby.
Sam Waterston and Robert Redford played the same roles in the 1974 adaptation of F. Scott Fitzgerald's iconic 1925 novel.
Article continues below advertisement
Leo and Tobey's version is being directed by Baz Lehrmann in Sydney, Australia.
The duo - who met while auditioning for the sitcom Parenthood in 1990 - haven't starred together in a movie since 1995 when they shot the low-budget film Don's Plums.
They later sued the director, claiming the movie was actually an 'acting exercise' that should never have been released.
While they have remained firm friends, their lives have taken very different turns, with Maguire now a husband and father and DiCaprio still playing the field, most recently with Gossip Girl Blake Lively.