Kim Kardashian Goes For A Camel Ride.....In Stilettos!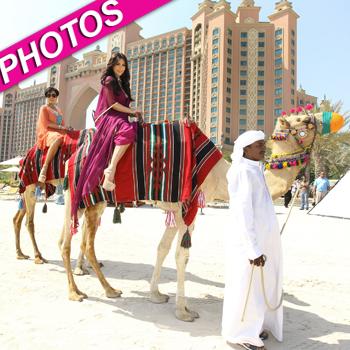 Kim Kardashian put on a 'shoe stopping' display as she paraded around on a camel wearing ski high stilettos,and RadarOnline.com has the unbelievable photos.
The reality TV star and her mom, Kris Jenner, turned heads as they ditched chauffeur driven cars for the furry transportation during a trip to Dubai.
Kim and her Momager were all smiles as they donned colorful floor-length kaftans while taking a ride outside their Atlantis Palms Hotel.
Article continues below advertisement
Later in the day the newlywed made an appearance at a Dubai Mall where she opened the first Millions Of Milkshakes outside of America.
She took to her Twitter page to express her gratitude.
"WOW, now this is what I call a warm middle eastern welcome," she wrote.
Kim has been experimenting with her dress sense since she arrived in Dubai and even took to the social networking site to post a photo of herself in a traditional Burka.