Kat Von D Eyeing Career Change: Recording An Album!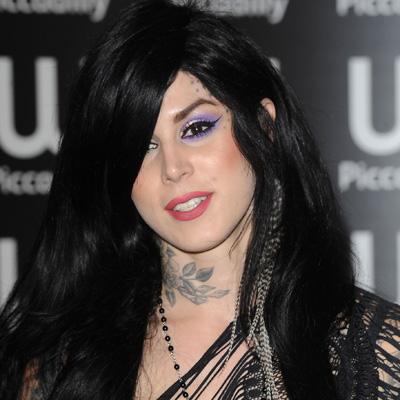 Reality star Kat Von D is recording an album.
The LA Ink star – who recently split from her fiancé Jesse James – has decided to make a career change and has begun laying down tracks in the studio.
Speaking at the Rage video game launch in Los Angeles at the weekend, she told E! News: "I've been passionate about music all my life. I've been playing classical piano since I was six. So I understand the form, but it will be fun to be able to translate a message."
Article continues below advertisement
Kat is confident she will be able to make a great record because she is a creative person and music is just another outlet for her.
The 29-year-old tattoo artist added: "I think it's much like tattooing or the TV show or make-up, my clothing line, fashion. All those things, they're just different outlets to be able to be creative. So music, I think it's going to be one of those things."
The sexy TV star says her influences are Guns N' Roses, Metallica, AC/DC, Depeche Mode and The Cure and she has promised her songs will focus more on her "dark, more tragically romantic" side.
On-again-off-again couple, Kat and Jesse – the ex-husband of Sandra Bullock – split up in September after deciding they were on "different paths in life".
A source told RadarOnline.com that this time it's for keeps. "They are done, through and through finished, split, game over," the source said. "They are both confident that they won't be giving it another go. It's the end of the road for them.
"I think it just fizzled out between them. They were hot and heavy to start, but once the sexual attraction started waning there wasn't really anything left to sustain a relationship.