Gisele Bundchen Says Her Baby Son Thinks Broccoli Is 'Dessert'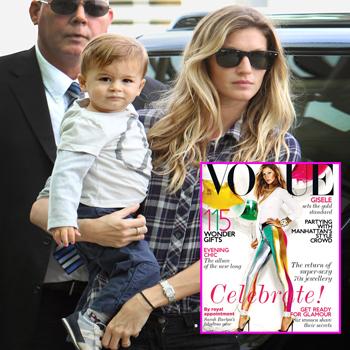 By Alexis Tereszcuk - RadarOnline.com Senior Reporter
Oh to be as perfect as Gisele Bundchen!
The gorgeous supermodel has a killer body, millions in the bank, a handsome uber-jock hubby and perfect children!
Most moms struggle to get their kids to eat less candy and more veggies, but not supermom Gisele, who claims her son Benjamin, who turns two in December, thinks broccoli is "dessert."
The 31-year-old graces the cover of British Vogue and in their December issues she speaks candidly about her work ethic, her children and her siblings, whom she claims "don't work very hard."
Article continues below advertisement
"Yeah, well, like I tell my five sisters, who don't work at it very hard at all, whatever you put in, you get out. I'm not afraid of working hard at anything, whatever it is. I just always want to be the best that I can," she says.
And work hard she does – Bundchen and her New England Patriots quarterback husband Tom Brady were named the Highest Earning Celebrity Couple by Forbes magazine with a record combined income of $76 million.
And, Gisele brings in the bacon solo too! She was number one on Forbes World Top-Earning Models List, raking in a cool $45 million last year.
But, the Brazilian stunner always finds time for her little ones, son Benjamin and stepson Jack, and says she's working hard to make sure they grow up eating healthy.
"My children, they are like white canvases. When Benjamin eats broccoli, he thinks it's dessert!"