Casey Anthony's Shocking Jail Video, Attorney Says Her Treatment Was 'Torture'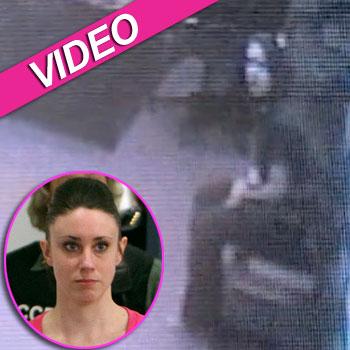 By Alexis Tereszcuk - RadarOnline.com Senior Reporter
The shocking jailhouse video of Casey Anthony learning that remains were found in the woods near her home while she was incarcerated was released on Friday and RadarOnline.com has the footage.
In the video, filmed in December 2008, Casey is escorted into a room and sits in a chair with her hands restrained, one hand between her legs while she watches a television off camera.
Article continues below advertisement
35 seconds into the video Casey covers her face with her left hand and doubles over bending forward, no longer looking at the television. She continues to stay hunched over with her hair hanging in front of her face. At 1:25 into the tape Casey wipes her eyes and clenches her fists.
The news report that aired in 2008 only identified that remains had been found but they did not announce that the remains were those of Casey's missing daughter, Caylee Marie Anthony. According to HLN Casey requested to see her lawyer as she watched the video.
According to Casey's attorney's opening statements at the trial, she already knew her daughter was dead at the time she watched this video, since her defense maintain that Caylee drowned in the family pool on June 16 of that year.
Judge Belvin Perry ordered the unsealing of the video and explain in his court order: "The jail video…is a public record subject to disclosure. The reason for sealing – Ms. Anthony's right to a fair trial – is no longer acceptable."
Article continues below advertisement
According to the Orlando Sentinel, on the day Caylee's remains were found Casey was moved to a medical facility where the TV showed the report at the request of the Sheriff's department.
"An Orange County Corrections lieutenant told detectives Anthony breathed rapidly, her hands became sweaty and red blotches appeared on her neck. She asked for a sedative," the newspaper reports. "Those reactions are not apparent on the video released today, possibly because of the poor quality."
Anthony's lawyer Jose Baez argued in front of Judge Perry that Casey was taken in front of the monitor showing the discovery of the remains to "perhaps elicit an incriminating statement, which did not happen."
Baez said "I find that to be torture. I guess it's Orange County's version of water boarding."
Casey was acquitted of murdering her then 2-year-old daughter by a jury in July and was subsequently released from jail and is serving a probation sentence for an unrelated case at an undisclosed location in Florida.
Watch the video from WESH Orlando below: