Exclusive
Bachelor Ben Flajnik's Snow Business, ABC Turns San Fran Into A Winter Wonderland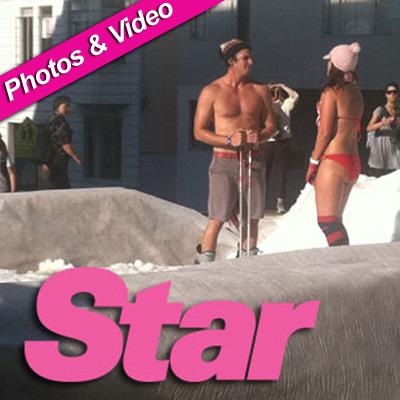 He was the runner-up for Bachelorette Ashley Hebert's affections on the last season of the show, but now that Ben Flajnik has been named the new Bachelor ABC are pulling out all the stops for their new star, Star magazine can exclusively reveal.
Residents of the swanky San Francisco neighborhood of North Beach were shocked when a crew from the series descended on the area on a sunny 85 degree day and turned one downhill street into a winter wonderland for 29-year-old Flajnik and a number of bikini-clad contestants, Star is exclusively reporting in the new issue, on newsstands Thursday.
Article continues below advertisement
"The crew showed up at 5 a.m. and turned on their snow-making machines, which of course woke everyone up," an eyewitness tells Star. "And a lot of them were wearing press badges that said William & Kate; I think they were trying to throw everyone off."
Two policemen had closed off the street to traffic during the 14-hour shoot, says the eyewitness, "and Ben rode in a van back to the top of the hill after most of the ski runs -- while the girls had to walk!"
But it wasn't all work and no play, even for the women.
EXCLUSIVE PHOTOS: Bachelor Reunion Pics
"There were large coffee cups waiting for Ben and the girls on the inflatable couch set after the skiing -- but the production crew had actually filled them half and half with vodka and cranberry juice," the eyewitness tells Star.
"They also tried to stop anyone from taking pictures of the crew handling the vodka. I don't think they want viewers to know about the alcohol."
Article continues below advertisement
No doubt the amateur skiers needed the booze to ease their aching muscles after taking more than a few tumbles.
Bachelorette Star DeAnna Pappas' Unique Wedding Plans
One of the sexy contestants hit the ice at the end of a downhill run, the eyewitness told Star, while another girl took what looked like a hard spill, and they had someone dressed as a medic check her out on camera.
Luckily, "she was laughing afterwards," said the source.