Pilot Jake Pavelka Crash Lands On Bachelor Pad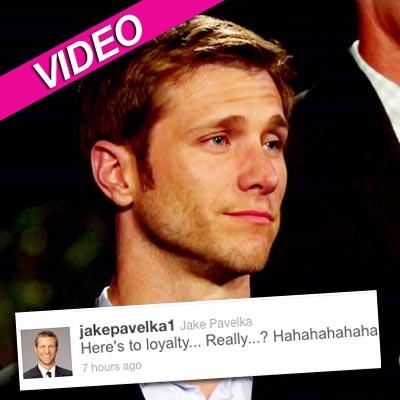 Somewhere, Vienna Girardi is smiling.
Hunky (and surprisingly scheming) pilot Jake Pavelka was voted off ABC's Bachelor Pad on the third week of the show Monday night.
Following the show's broadcast, Pavelka tweeted: "Here's to loyalty... Really...? Hahahahahahahhaahah"
(We still think Vienna got the last laugh, however).
EXCLUSIVE PHOTOS: Bachelor Reunion Pics
Pavelka, 33, got the boot in the final seconds of the program, but ABC immediately faded to black so we couldn't see Jake's reaction until next Monday. (Watch out Vienna and Kasey -- it promises to be heated!)
Article continues below advertisement
Watch the video on RadarOnline.com
Although Pavelka knew he was a marked man from the get-go, he made a desperate attempt to find an ally in ding-a-ling socialite Erica -- and even made out with her to win her loyalty! (Yuck).
"I think my kiss with Jake was a long time coming," Erica said. (Really?)
EXCLUSIVE BABY PHOTOS: Bachelor Pad's Kiptyn & Tenley -- Before They Were Famous
"It was definitely hot. I definitely have good lips that I maintain with getting injections every six months. It is time for this princess to take control of the game."
It would appear love wasn't on Jake's mind – only the love of money.
"I was willing to do whatever I needed to do to be safe at the elimination," Pavelka told the cameras.
Jake Pavelka and Vienna Girardi Drama Was Totally Played Up - Says Jesse Kovacs
Other favorite moments of the show -- Kasey and Vienna's blow-up and then Kasey giving Vienna a ring, much to her horror. "I don't want it to be an engagement ring!" she said as he pulled out a ring box. (Turns out it was only a 'promise ring').
Article continues below advertisement
Kasey's response: "You killed the mood."
Other highlights: Bret Michaels singing (what else?) Every Rose Has Its Thorn for Holly and Mike and the contestants wearing teenie-weenie bikinis and speedos as they compete in an embarrassing contest involving synchronized swimming. (Surprisingly – the guys outshined the gals!)
With Jake gone -- although look for him next week -- the remaining Bachelor Pad contestants will continue fighting it out to win the competition and take home the $250,000 prize money.