Bachelor Pad Recap: A Mean-Spirited Paintball Game & Shocking Exits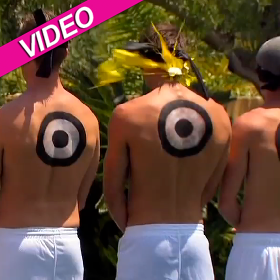 Did you see ABC's Bachelor Pad Monday night?
In case you missed it -- or your DVR refused to record it, citing good taste -- here's the highlights!
Host Chris Harrison begins the two-hour show by having the contestants play a mean-spirited (but hilarious) game in which the men and women -- each blindfolded, clad (of course) in skimpy swimwear, and wearing a target on their back -- repeatedly whip paintball at each other from behind.
Article continues below advertisement
In the end, Michael Stagliano and Melissa Schreiber came out on top, earning them immunity from elimination and the opportunity to choose three people each to take on a date. (Michael REALLY pelted Erica hard with paintball in his final shot, but later expressed regret and invited her out on the group date -- too bad it ended up being at a spooky abandoned insane asylum.) During the group date, Michael ended up giving his ex-fiance Holly Durst the rose, saving her from possible elimination during the final rose ceremony.
Article continues below advertisement
Harrison then throws the contestants a curveball when he announces that TWO WOMEN would be going home and ALL THE MEN would be sticking around for another week. That news doesn't sit well with Vienna Girardi, since everyone -- including Jake -- assumed the Dallas pilot would be jetting home on the men's side. When Vienna whines and threatens to leave -- saying she can't take seeing Jake for another week -- Harrison offers to call her a cab. (Kudos Chris!) Of course, Vienna stays. "I am not leaving this house because Kasey Kahl is here holding me and keeping me strong," she says.
Jake Pavelka and Vienna Girardi Drama Was Totally Played Up - Says Jesse Kovacs
Another highlight: super sneaky dentist Blake Julian woos Melissa for the rose and (reluctantly) makes out with her, even though he thinks she's a psycho. "It's akin to a prostitute, I hate it. But I have to whore myself out to keep her happy."
(It works – and he gets the rose). Of course, a weepy Melissa stalks him for the rest of Monday night's episode.
Article continues below advertisement
In a surprising move, a weepy Gia Allemand abruptly packs her bags and quits the show after feeling betrayed by Graham Bunn who told Kasey that she wanted to break-up "power couple" Kasey and Vienna.
With Gia voluntarily leaving, that means only one woman will get the boot.
In the end, Jackie Gordon didn't get a rose, but in a great, fairytale ending, handsome Ames Brown -- who had fallen in love with her -- runs after the limo and leaves the show to be with her.
"I fell in love with her in a way I never fell in love with anybody before," Ames said as he chased after the limo. "I think it's safe to say we won Bachelor Pad 2," he said while kissing Jackie in the backseat. "This is the happiest limo ride in Bachelor history. Love occurs in the most unexpected places and Bachelor Pad is no exception."
Ahhh..
Bachelor Pad 2 continues next Monday at 8/7c on ABC with Jake and Kasey facing off and the men forced to attempt synchronized swimming.
radar_embed service=5min.com src=" http://pshared.5min.com/Scripts/PlayerSeed.js?sid=1126&width=486&height=412&playList=517713072&sequential=1&shuffle=0"
radar_embed service=5min.com src=" http://pshared.5min.com/Scripts/PlayerSeed.js?sid=1126&width=486&height=412&playList=517713067&sequential=1&shuffle=0"
RELATED STORIES:
Jake Pavelka: 'Vienna Girardi Will Do Anything For Fame'