Video Of Gay Soldier Coming Out To His Dad Goes Viral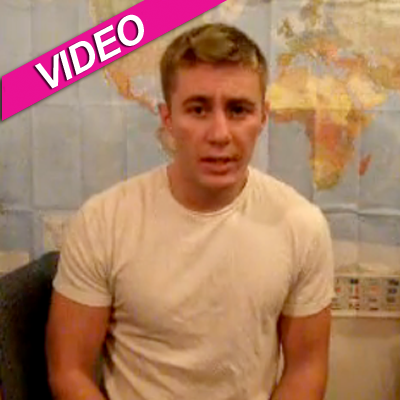 by RadarOnline.com Staff
He's gone viral.
The moving video of a gay U.S. soldier coming out to his father has already gotten more than 1.5 million views only a day after it was posted on YouTube to coincide with the Pentagon's repeal of Don't Ask, Don't Tell.
The video begins with Randy Phillips, a 21-year-old soldier based at Ramstein Air Base in Germany, walking into the camera's frame and sitting at a desk with a map of the world behind him.
Article continues below advertisement
"I'm probably about as nervous as I can ever remember being," Phillips says. "I'm about to call my dad in Alabama…
"He has no clue, nor do any members of my family"
As the phone rings, Phillips put his hand to his chest and softly says: "My heart is beating like crazy"
When his father finally picks up, Phillips says: "Hey daddy… What are you doing?… Can I tell you something? Will you love me, serious?"
"Yes," his dad replies.
"Dad, I'm gay," Phillips says.
"Yikes," the father says.
"Always have been… I wanted to tell you in person.. I didn't want you to find out any other way…Do you still love me?" Phillips asks his dad.
"I still love you, son. Yes, I still love you," his father replies.
"It doesn't change our relationship.. You hear me?" he adds.
Phillips then tells his dad he hasn't told his mom or other members of his family.
Article continues below advertisement
After Phillips posted the video on YouTube, it quickly went viral. His video description reads: "I called my dad to tell him the hardest thing that gay guys will ever have to say."
Phillips said it inspired an older colleague to pick up the phone and call his parents to tell them that he too is gay.
"If it helped one person, then it's all worth it," he said in an interview Tuesday.
Phillips also called his mother but said that conversation "wasn't quite as easy." He said his sisters also now know he's gay.
He decided to tell his family this week after sharing the news with other colleagues in the military and friends.
Philips previously chronicled his struggle with being gay in the military under the YouTube and Twitter names "AreYouSurprised."