Rapper T.I. Back In Federal Custody!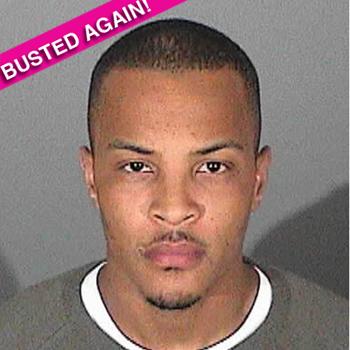 Update: We've learned more about the circumstances behind T.I.'s trip back to prison. Officials felt the rapper lied when he petitioned to use his own transportation in making the trip from Arkansas to Atlanta. According to reports, the Whatever You Like singer told authorities he'd be boarding a van, as opposed to the deluxe tour bus, but his attorney tells RadarOnline.com:
"We are confident there was never any intent to mislead or to misstate the method of transportation. If there was some confusion or misunderstanding surrounding the method of transportation, we hope to clear it up quickly so T.I. can return to the halfway house."
Article continues below advertisement
After just one day of freedom, T.I. was under arrest again on Thursday, RadarOnline.com has learned.
The Grammy-winning rapper -- who was released from an Arkansas prison Wednesday after spending the last ten months in custody for a 2010 drug conviction -- was taken back into federal custody on Thursday, his attorney Steve Sadow said, after he showed up to an Atlanta halfway house in a souped-up luxury bus.
"We don't have any more details at this time. We are awaiting the opportunity to quickly resolve whatever the issue may be that the Federal Bureau of Prisons has with T.I.'s method of transportation," Sadow told RadarOnline.com. "So that T.I. can return to the halfway house to complete the remaining days of his sentence."
On the way from the Arkansas prison to The Peach State, the rapper — real name Clifford Harris — was being recorded for an upcoming VH1 show chronicling his comeback after his second prison stint in three years.
Article continues below advertisement
Federal Bureau of Prisons spokeswoman Traci Billingsley told the AP she couldn't comment on the incident, or where the rapper was taken following it. An official website for the organization listed T.I.'s status as "in transit," with no further details.
The talented rapper has made more headlines than hits the past three years: He served a seven-month stint behind bars following a 2009 arrest on gun charges; and was arrested again in September 2010 on drug charges.
In case you're confused about the technicalities, here's the basics of how it breaks down:
T.I. was supposed to complete the remainder of his sentence -- which ends September 29 -- at the Atlanta halfway house, where he'd still be under supervision, but under much more relaxed conditions. Instead, for the foreseeable future, the rapper will be held in a Federal Penitentiary in Atlanta.
Stay with RadarOnline.com as the story develops...