Taylor Armstrong Claims Russell Threatened To Kill Her For Not Serving Vegetables With Pizza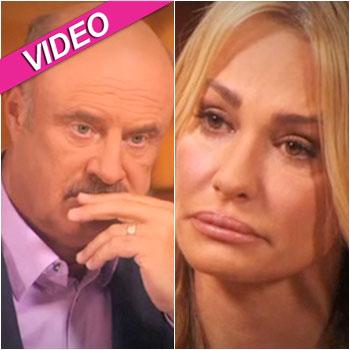 Taylor Armstrong sat down with Dr. Phil for an emotion interview that aired Thursday, and RadarOnline.com has video of her shocking claim that Russell Armstrong once threatened to kill her for not serving vegetables with pizza.
Dr. Phil starts out by asking the Real Housewives of Beverly Hills star if there was a particular incident that made her realize she was afraid of her then-husband.
Article continues below advertisement
"I came home from work one night, I was pregnant at the time, and we were going to a charity event so I was getting ready," Taylor says.
"I had made pizza for his two boys who were staying with us and his mother was staying with us as well — they were upstairs eating — and he came downstairs and grabbed me by the neck, shoved me up against the wall and said, 'If you ever serve my kids a pizza without a vegetable again, I will kill you.'"
Dr. Phil asks Taylor what went through her mind at that split second, and the tearful reality star confesses: "I think I felt like — Oh my God, I should have made a vegetable, that was so irresponsible of me, I can't believe I didn't give the kids a vegetable."
With tears welling up in her eyes, Taylor recalls: "I just immediately started apologizing profusely."
She goes on to try and articulate how it makes her feel now to have reacted in that way. "Sad, pathetic," she says. "In that moment, when he was angry it was a very dangerous situation. I 100% knew what he was capable of in that moment."
Article continues below advertisement