Taylor Armstrong: Russell Made Me Blame Daughter, 5, For Eye Injuries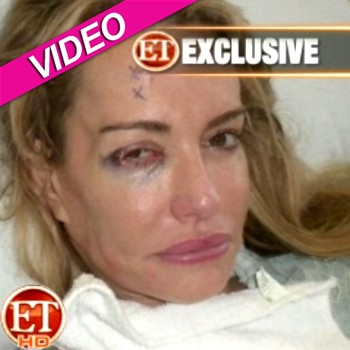 On her long-awaited interview with Entertainment Tonight Tuesday, Real Housewives of Beverly Hills star Taylor Armstrong admitted she lied to doctors about the injuries she suffered at the hands of her late husband Russell, telling them they were actually caused by kicks from their 5-year-old daughter, Kennedy.
"I told the doctor that Kennedy had kicked me because Russell told me to tell him that," Taylor told ET's Nancy O'Dell, noting that he was at her side "the whole time."
Article continues below advertisement
Following a procedure to repair her eye after one of his attacks, Taylor said, Russell came into recovery room and stayed until she was released.
"I didn't want Russell to go to jail, so I guess that was alright with me," she said of covering up the abuse. "He would say, 'If you call the police, they're gonna send me to jail. Who's going to take care of Kennedy? Who's going to take care of you?'"
Taylor, 40, said the doctors "were a little surprised at the degree of injury from a child."
Asked about the graphic images that show her battered and bruised, Taylor said, "They send a pretty loud message that regardless of how someone looks on the outside, you don't know what's going on on the inside."
Taylor recalled, "The first time Russell ever really harmed me physically, I was pregnant with Kennedy and he grabbed me by the throat and held me against a wall. Nothing had really happened to set him off, but I saw his ability to go from zero to 60 that quickly."
Article continues below advertisement
Taylor said the first time Russell attacked her, the violent episode was triggered by her choice of pizza toppings.
"He grabbed me by the neck and shoved me up against the wall and he said, 'If you ever make my children a pizza without a vegetable again, I'll kill you.'"
Taylor said she was living her life "constantly on egg shells waiting for the other shoe to drop," never knowing what minor trigger could send Russell into a rage. She added Russell was cagey about how to hurt her without leaving "a lot of physical signs of injury.
"He would grab me by one side of the hair on my head and bang the other side of my head against the car," Taylor said, noting most of his rages were short episodes composed of "a lot of screaming, combined with a few hits to the face."
Taylor, who estimated Russell subjected her to about 20 abusive incidents, remembered, "He would say to me, 'I'm afraid I'm going to kill you one day.'"
Last week, after reviewing CT scans of Taylor's injuries, New York-based reconstructive surgeon Dr. Barry Weintraub said Taylor's injuries were "caused by blunt trauma -- usually by a fist," adding she could have gone blind as result of the vicious attack.
Article continues below advertisement
Russell, 47, was found dead at a Los Angeles home August 15. He is survived by Taylor and three kids: son Aiden, 13 (with ex-wife Barbara Fredrickson); son Griffin, 11 (with former fiancée Milette Fields); and daughter Kennedy, 5 (with Taylor).
On Wednesday's Entertainment Tonight, Taylor tells Nancy O'Dell about the shocking moment she discovered Russell's body and how she tried to shield Kennedy from seeing her father.