Sinead O'Connor Begs For Suicide Options On Twitter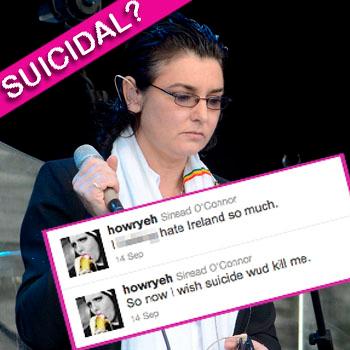 By Amber Goodhand - RadarOnline.com Reporter
Is Sinead O'Connor suicidal, or just desperate for attention?
The Irish singer punched out dozens of tweets on Wednesday, begging her followers for ideas on how she could take her own life without hurting her children.
"Had to go psychiatrist for routine renew prescription etc. She says I'm a bad mum and mental for talking so openly about sex in public," the Nothing Compares 2 U singer wrote.
Article continues below advertisement
"So now I wish suicide wud kill me."
O'Connor, 44, regularly turns to her Twitter account to express all sorts of bizarre thoughts — last month writing about how sexually deprived she is, but talking suicide takes things to a new level and has people close to her worried.
"I want to go To heaven SO bad. Have for yrs. But I don't wanna abandon my kids. But if I cud die without them knowing I did it myself I wud," O'Connor continued.
"If any1 knows how I can kill myself Without my kids finding out I did it deliberately pls tell me asa f**kin p."
The messages posted on her Twitter account are particularly alarming since during an appearance on The Oprah Winfrey Show in 2007, O'Connor admitted a prior suicide attempt on her 33rd birthday to the daytime talk show queen.
O'Connor came out as a lesbian in 2000, but has been married three times and has four children by four different men, between the ages of four and 24-years-old.