Simon Cowell Disses Nicole Scherzinger On The X Factor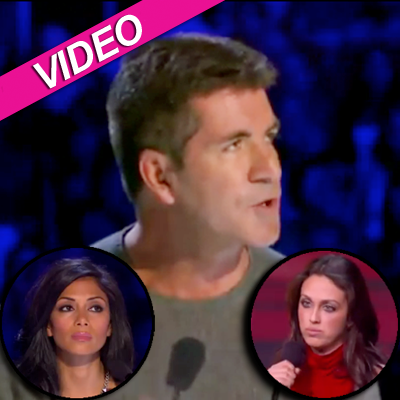 Note to Simon: Don't mess with a Pussycat Doll, they have claws!
During Wednesday night's deliciously good The X Factor, judges Simon Cowell and Nicole Scherzinger had a testy exchange -- and RadarOnline.com has the catty clip.
It started when Simon remarked to a (terrible) young female contestant: "That's exactly what I would have seen with Nicole had she been 20 auditioning for the show for the first time. I do."
Article continues below advertisement
Nicole -- who sat stone faced during Simon's blunt feedback to the contestant -- then shot back: "That's funny cause you can look it up on line, I was on a show called Pop Stars and actually sang Whitney Houston's I Will Always Love You.
Nicole then burst into a rousing a cappella version of the hit Houston song, as the camera cut away to a shot of the poor contestant on stage, realizing, no doubt, Nicole had clearly stolen her spotlight.
As fellow judge Paula Abdul hugged Nicole and the crowd cheered wildly, you can see Simon smiling.
The X Factor airs Wednesdays and Thursdays at 8/7c on Fox.