Simon Cowell Dishes On 'Bizarre' Date With Heavily Pregnant Denise Richards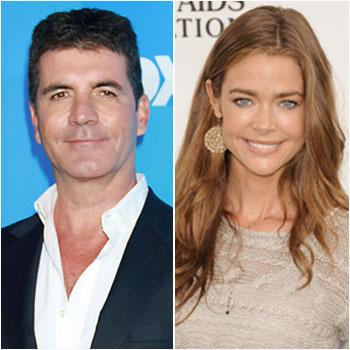 Now, this is what you call an odd coupling.
Simon Cowell once went on a "bizarre" date with Denise Richards.
The 51-year-old music mogul – who is now engaged to make-up artist Mezhgan Hussainy – explained he was set up by a mutual friend on a "blind date" with the 40-year-old actress, who turned up "eight months pregnant with a dog in her handbag".
He said of Denise: "We had a bizarre kind of blind date several years ago. She's cute. She turned up eight months pregnant and had a dog in her handbag."
Article continues below advertisement
The X Factor judge admitted that while he thinks Denise – who has daughters Sam, seven, and Lola, six, with ex-husband Charlie Sheen, as well as adopted baby daughter Eloise Joni – is "gorgeous, funny and a bit of a wacko", her being heavily pregnant put him off.
Asked whether Denise's impending motherhood was "a real turnoff", Simon told Howard Stern's 101 Sirius XM Radio show: "A little bit. But she is gorgeous. I liked her a lot. I think she's cute, funny, a bit of a wacko, but I like that.