Denise Richards: Dinner Preceding Charlie Sheen's NY Meltdown 'Insane'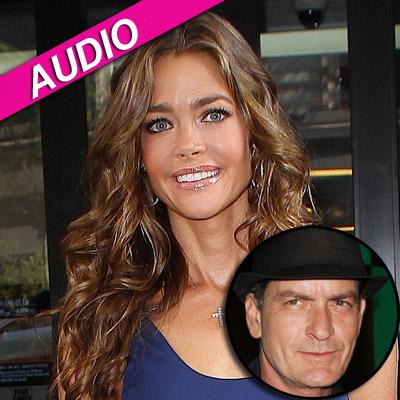 Denise Richards admits going to dinner with ex-husband Charlie Sheen and "four hookers" was an "insane" experience.
Richards has two daughters -- Sam, 7, and Lola, 6 -- with the former Two and a Half Men star; she said she initially thought it was "sweet" Sheen had invited her out for a meal while she was in New York last October, but that the situation got "really crazy" in a hurry.
The evening eventually culminated in Sheen going on a drink and drug-fueled rampage in his room at the Plaza Hotel, allegedly attacking porn star Capri Anderson, who had been one of the dinner guests.
Article continues below advertisement
"I was actually in New York to do press and brought my girls a couple of days early, he was off and thought it would be fun to all of us to go," the Wild Things star told Ryan Seacrest on his KIIS-FM radio show Monday. "I thought it was sweet because at the time, I thought he was in a different place entertainment wise of what he does in his free time.
"I did not know who was going to be at the table. When I found out I thought, 'I can be cool about this, I can hang,' then things got a little crazy and colorful, so I left the table. Then when things got really crazy, it turned into a whole different thing.
"I think the police officer on the scene was a little dumbfounded about why I was at dinner with my ex-husband and four hookers. I was so nonchalant about it! Charlie had to be taken to the hospital and I went along.
"It was a very, very crazy, memorable, insane evening."
The 40-year-old stunner -- who also has a 1-month-old adopted daughter named Eloise -- admitted she's been trying to protect her children from the details of Sheen's public meltdown, and his subsequent behavior which included him living with two girlfriends at his California home.