Happy 28th Birthday To 'Her Royal Hotness' Pippa Middleton!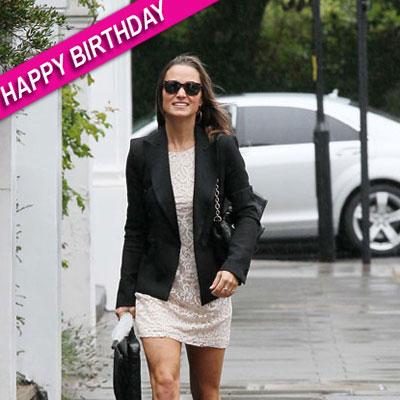 'Her Royal Hotness' Pippa Middleton is celebrating her 28th birthday Tuesday!
Pippa looked chic as always as she grabbed some coffee on her way to work on a rainy London morning.
The socialite sister of England's future Queen was born the second of three children with Catherine, now the Duchess of Cambridge, being the oldest. Brother James is 26.
All three Middletons attended the exclusive Malborough College in Wiltshire, England before Pippa headed to Edinburgh University where she studied English literature.
Article continues below advertisement
After Pippa's graduation she spend a short time working for a public relations company specializing in luxury goods before going to work for Table Talk, a London-based company that plans corporate parties and events.
She now works for her family's business, Party Pieces, where she is responsible for editing the company's newsletter 'The Party Times.'
She caught the world's attention when she acted as maid of honor at sister Kate's wedding to Prince William, the future King Of England in April.