Kate Gosselin Launches Her Own Website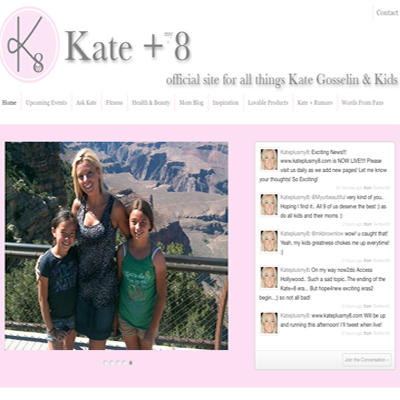 By Alexis Tereszcuk - RadarOnline.com Senior Reporter
With the last-ever-episode of Kate Plus 8 airing Monday night, Kate Gosselin is definitely not going to fade into the woodwork. She's launching her very own website so she can still keep the world informed about what she is doing at all times.
The new site is KatePlusMy8.com, and while most sections are still under construction it promises to be the ultimate Kate Gosselin destination.
Article continues below advertisement
With Ask Kate, Upcoming Events, Health and Beauty tabs all still "coming soon" the site was apparently fast-tracked to launch just as her reality show is ending.
"I can't wait to provide you with exciting information, recipes, blogs about life, encouragement, and what the kids are doing… But, I'm also hoping that you will contribute too by emailing (Yes! I'll now have "fan mail"!!!) your questions, tips and suggestions! I'll post fan mail topics too!" Kate wrote in the "Mom Blog" section.
As RadarOnline.com previously reported, Kate is nervous about her future and what kind of job she can get to support her brood. "The scary reality is 12-hour nursing shifts every day wouldn't let me continue to provide well for eight kids, essentially on my own. When you think about it that way, it gets really scary," Kate said.
The series finale of Kate Plus 8 airs Monday, September 12 at 9/8c on TLC.