Exclusive
Holly Madison Opens Up About Her New Love -- Her Pet Ferrets!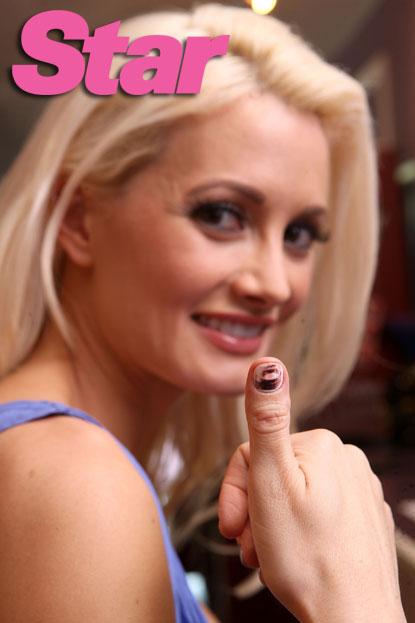 Former Playboy playmate Holly Madison has not only one, but two, new men in her life, and they have a lot more hair than her ex-boyfriend, Hugh Hefner!
"I have two ferrets and I love them. I think they're so cute," the Holly's World star told Star magazine in an exclusive interview while getting a manicure homage to her favorite pets at the Painted Nail salon in Los Angeles.
"I'm getting something crazy on my nail, I just wanted to go totally crazy," gushed Holly, so she had a ferret and a disco ball painted on her fingers!
Article continues below advertisement
"I love to show people pictures of my ferrets on my phone like they're my kids, so I might as well put them on my hands," she went on to explain.
Madison got the animals last year, the first as a gift and the second from a shelter, and even has an outdoor entertainment area for them.
"I have a little house with air conditioning for them," she revealed.
Currently living in Las Vegas where she films Peepshow and Holly's World, the 31-year-old blonde beauty said she still stays in touch with her former Girls Next Door co-stars.
"I love seeing what Kendra is doing. I usually hear what she's up to from her beforehand but seeing it play out is always a lot of fun," she told Star, explaining how she regularly pops up on her pal's show.
"I think I've been on every season of Kendra. I'm losing track. It goes by so fast. I was on it for her baby shower, so fairly regularly, every now again.
"Kendra and Hank are such a good combination; they made such an adorable and unique looking baby," she revealed. "Hank is a really good guy for her."
Article continues below advertisement
Along with her own reality show, Madison is trying her hand at writing and has penned a go-to guide to Sin City.
"My book is called The Showgirl Next Door and it's all about my life in Las Vegas and also a guidebook to Las Vegas and with Vegas history," she explained.
"It was a super fun book for me to write. I did all the writing and photo editing and came up with the design and everything so I'm really proud of it."