Happy Days Star Henry Winkler Knighted For Work With Dyslexia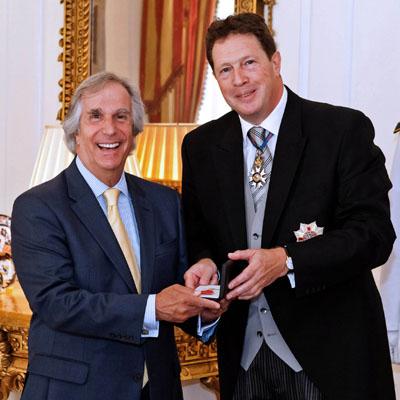 By Adam S. Levy - Radar Staff Writer
It's a happy day for Henry Winkler -- make that Henry Winkler, OBE.
Winkler, who played the iconic role of Fonzie on Happy Days, was knighted at the British embassy in Washington D.C. on Thursday for his tireless work with the dyslexic community.
Winkler tweeted Thursday: "Here I am with my OBE pinned on very honored very proud…" with an image of him receiving the vaunted honors.
Article continues below advertisement
Prince Harry Gets Wet & Wild In Croatia!
The 65-year-old actor, who was diagnosed with the condition when he was 31, has penned a series of children's book called Hank Zipzer, in which the main character is dyslexic. He's visited schools in the UK to discuss the condition.
"I walk into the room and ask if anybody has trouble in school and maybe one or two people raise their hands," he told the BBC of the outings. "By the time I've read to them from Hank Zipzer... everybody wants to be dyslexic. It's very touching."
During his Knighting, British ambassador Nigel Sheinwald said that through the actor, "Thousands of young people have seen a role model and an inspiration for overcoming their learning challenges."
Fun fact: other famous American knights include computer mogul Bill Gates, boxer Muhammed Ali and actor Jerry Lewis.
RELATED STORIES:
Prince Harry To Visit California & Arizona -- For Three Months!