Irish Farmer Warns Topless Rihanna: 'Cover Up!'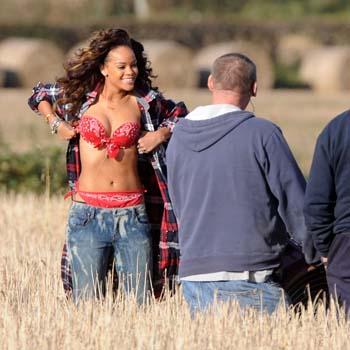 by RadarOnline.com Staff
Rihanna showed a tad too much skin for an Irish farmer's comfort on Monday.
The sexy S&M singer, shooting a video for her single "We Found Love" in a North Ireland wheat field, bared her breasts while changing outfits outdoors, to the chagrin of the farmer who owns the property, Alan Graham.
Graham, none too happy about the display, hopped off his tractor and told the 23-year-old A-lister to cover up.
Article continues below advertisement
"I thought it was inappropriate. I requested them to stop and they did," Graham said. "I had a conversation with Rihanna. I hope she understands where I'm coming from. We shook hands."
Graham had no problem telling the multi-platinum pop princess to cover up, in part, because he said he didn't know who she was.
"I didn't know who was coming: If the name 'Rihanna' had been mentioned, well, no disrespect but it wouldn't have meant anything," he said. "From my point of view, it was my land, I have an ethos and I felt it was inappropriate.