Drunk Moose Caught In Tree! (Seriously!)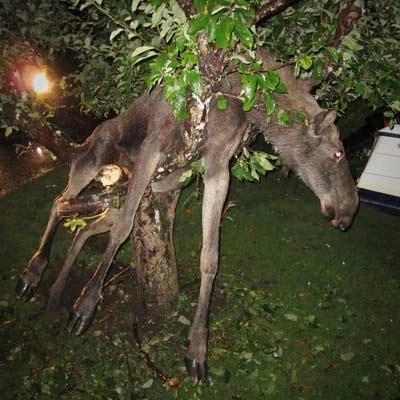 We've heard of being drunk as a skunk -- but drunk as a moose?
A seemingly intoxicated moose has been discovered entangled and trapped in an apple tree in southwestern Sweden, and we've got the photo to prove it!
Per Johansson says he heard a roar from his vacationing neighbor's garden Tuesday night and went to check out the commotion, and that's when he saw the female moose kicking about in the tree.
Article continues below advertisement
Johansson said the moose appeared to be sick, drunk or "half-stupid."
The animal was likely drunk from eating fermented apples, according to officials.
Johansson and his neighbors attempted to saw off limbs to free the moose while waiting for fire and rescue crews to arrive on the scene.
When the moose was finally down from the tree, the animal appeared confused and wandered into Johansson's garden, where she was still resting Thursday.
Neighbors said that the moose did in fact appear to be deeply "under the influence" and had even attempted to ram a car in the neighborhood before becoming trapped in the tree.
According to officials, drunken moose are a common sight in Sweden during the autumn since fruit often ferments in the country after being left unattended under trees.
RELATED STORIES:
President Obama's Uncle Arrested For DUI