Coco & Ice-T Releasing His And Hers Novels Tuesday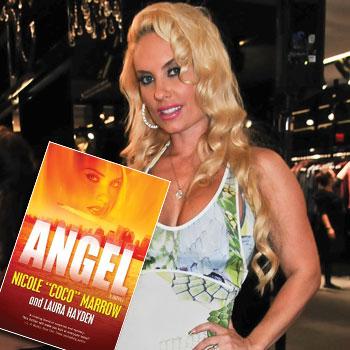 Tuesday, September 13 is a day that is sure to go down in literary history.
Coco has booty and brains and she is about to prove it – by publishing her first novel!
Ice-T's uber-curvy wife, who is famous for flaunting her larger-than-life assets in barely-legal bikinis, is celebrating the publication of her first novel titled Angel which hits stores tomorrow – and RadarOnline.com has all the details.
Article continues below advertisement
Written by Nicole "Coco" Marrow (Ice-T's actual last name!) and Laura Hayden, the blonde bombshell's first novel, which will be available on Amazon.com for $9.87 is a mystery novel, which "keeps readers guessing".
The synopsis of the novel on Amazon reads as follows:
"A beautiful woman awakens on a plane and discovers that things are going terribly wrong. The plane is about to crash into the Hudson River and she can't even remember her own name.
"After she survives the crash, the airline determines that her name is Angela Sands. But she has no idea who she really is.
"Reporter Dante Kearns is fascinated by the woman the media dubs 'the Angel of the Hudson,' especially once he discovers her shocking secret. Angela can hear voices in her head -- the thoughts of all men around her. And when a man gets close, her face and form change into the woman of his dreams.
Article continues below advertisement
"Who is Angela? And why does she believe that she was murdered before she woke up on that plane in a stranger's body? Together, Angela and Dante are going to find answers, even if they have to bring down a killer to do so."
L.A. Banks, New York Times bestselling author raves about Angel: "A riveting blend of suspense and mystery. This shape-shifter thriller will make you look at everyone twice!"
Coincidentally, Coco's husband Ice-T is also celebrating the release of a book tomorrow! The rapper and actor's New York City crime novel King of Vice is described as a book about 'revenge and redemption'.