Exclusive
Real Housewife Cindy Barshop Waxes On Motherhood And Hair Removal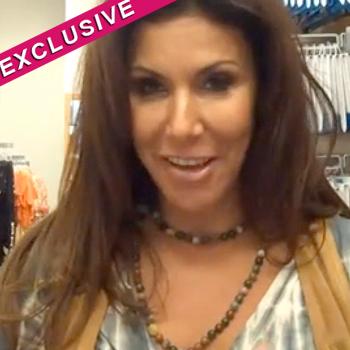 As a busy, working mother of twin girls Cindy Barshop certainly has her hands full.
But the Real Housewives of New York star is managing to juggle motherhood and running her successful chain of hair removal spas, Completely Bare, all as a single mom.
RadarOnline.com exclusively filmed Cindy with her two adorable daughters Jesse and Zoe and she shared how parenthood has changed her. "Having the kids in my life has made me such a calmer person. I actually got a house in the Hamptons, I rented it so I could spend more time with the kids," Cindy said.
Article continues below advertisement
"Before I used to be coming back and forth from New York but it's been amazing. I've been taking more time for myself."
She spent the afternoon taking her girls to get their hair cut and bounced them on her knee while distracting them with balloons. Cindy became a single mother by choice when she forged ahead into parenthood on her own.
But being on the hit Bravo show has increased Cindy's profile and subsequently her business, which she started in 1998, is picking up steam. "Work has been very busy. I'm doing what I should have done before which is hiring a lot more people now and building a proper corporate structure," she shared. "The corporate structure before was just myself, my brother and two other people."
Cindy, 46, also dished on her new salon and upcoming ventures. "We have nine spas so far and have another one opening in Long Island next month," she revealed. "It's huge and going to be the first high-tech spa that we are going to be doing so it's going to be all rejuvenation beside the hair removal -- it's going to be all kinds of spa treatments, full product line."
Cindy is credited with introducing vajeweling (yes, it's what you think) to women, where crystal designs are placed on a woman's private parts, as well as vatoos which are temporary airbrushed designs for the bikini area.
Article continues below advertisement