Exclusive
Christina Milian Reveals Jet Setting 30th Birthday Plans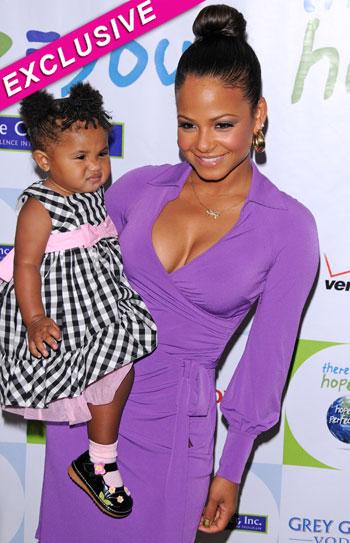 Christina Milian knows how to celebrate in style!
The singer started celebrating her 30th birthday early on Thursday night with a dinner at Brasseire Beaumarchais in NY's Meatpacking District. Christina spoke exclusively to our friends at Star magazine at the HPNOTIQ Harmonie sponsored event and revealed her extensive birthday plans.
"I want to be everywhere for my birthday," the giddy singer told Star. "So it's like New York, L.A., Vegas, Miami...this is my first one. I'm excited!"
Article continues below advertisement
While many celebs fret over turning the big 3-0, the mom to daughter, Violet, 19 months, expressed only excitement over the milestone.
"It feels great," she confided. "I feel way more honest, way more confident, and I'm just excited to see you know, they say with that age, with the thirties, comes wisdom and I feel that already."
Christina, who wore a Betsey Johnson dress with a Russian Dolls by Svetlana necklace, didn't bring her daughter with ex, The Dream, to the dinner, but did share plans to celebrate with the toddler.
"We'll probably get dinner, something, celebrate together. I love doing stuff with her. So it's kind of like every day is our birthday," she laughed.
COURT DOCUMENTS: Read Christina Milian's Motion To Enforce Settlement Agreement
And while Violet's birthday is still a ways away, Christina - whose actual birthday is September 26 - has already started thinking about it.
"I'm going to throw her an Elmo party," Christina explained. "She loves Elmo. So that's what I think we'll do. Who knows six months from now? Because babies change every other day what she likes, but Elmo is the man."