Octogenarian Buzz Aldrin Has A New, Much Younger, Lady Love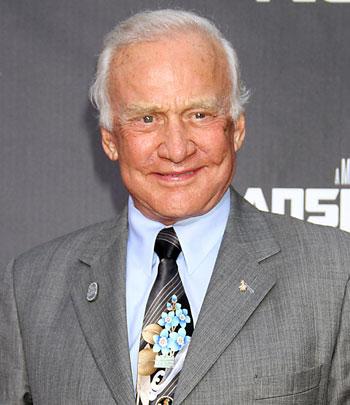 One thing is for sure — you are never to old too fall in love!
Famed astronaut, Buzz Aldrin, is living proof, as the 81-year-old is embroiled in a hot new romance... with a lady 30 years his junior!
According to the New York Post, the moon walker has taken-up with 51-year-old former Borders bookstore event marketing executive, Michelle Sucillon.
Aldrin has been officially single for all of three months, after filing for divorce from his third wife Lois Driggs Cannon, on June 15. The pair were married for 23 years.
Article continues below advertisement
Sparks flew between Aldrin and Sucillon when they met at a signing for his book, Magnificent Desolation at a Los Angeles Borders in 2009, but they didn't begin their romance until recently.
However, according to a witness who saw them "making out like teenagers" on an Acela train this past Saturday, they have been making-up for lost time.
Aldrin's estranged wife is not pleased with the union though and considers his new gal pal a home wrecker.
"He's not officially divorced yet. It is kind of scandalous. We've had a great life, and I don't blame Buzz, I blame the girl. She's a predator, that's my opinion," Cannon told the New York Post.
"He filed for divorce in June. The book signing where they met was in 2009, and I was there. She was kind of aggressive. But he didn't start seeing her then. He's been seeing her for about a year. There are women out here in Los Angeles that go after men, they go after celebrities. Women should leave married men alone.
Article continues below advertisement
"He's 81 and having kind of a midlife crisis in old age ... I still think Buzz is the most wonderful man in the world, and I still love him."
Cannon added: "We worked for over 20 years making Buzz into a brand. He wants to take that business now and give it to his children. I hope for a reconciliation, but Buzz has to give up this idea of being a young man again, wanting the young girls to feel young."