Benicio Del Toro And Kimberly Stewart's Little Girl Gets Double Barreled Name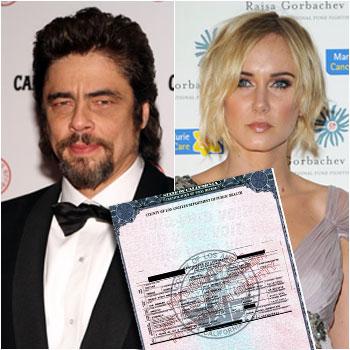 With an Oscar winning actor for a father and a Hollywood socialite for a mother, the offspring of Benicio Del Toro and Kimberly Stewart sure has a lot to live up to.
Luckily, little Delilah has been given a great start in life with a double barreled name that combines both of her parents' famous monikers.
The tot's birth certificate was released on Monday and shows that she has been named Delilah Genoveva Stewart Del Toro.
Article continues below advertisement
Born on August 21 at 5.36 p.m., Delilah is the first child for both Kimberly and Benicio. The couple dated briefly last year and are no longer romantically involved.
As RadarOnline.com previously reported, Kimberly is keen to maintain a relationship with Benicio, but, alas, it seems he is only willing to be part of his daughter's life.
"Kim and Benicio still see each other and talk for the sake of the baby, but it's not romantic and Kim wishes it were," a source said. "They weren't really ever dating to begin with, just sort of hooking up for a month, then boom -- she was pregnant."